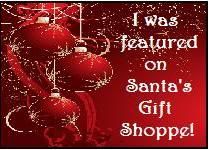 Today, Barb from Santa's Gift Shoppe notified me that I was being featured on her blog! It's so exciting to be featured on someone else's blog.  It kind of validates what I'm doing…sort of like an affirmation that people (other than my family members that I harass to read my posts) are actually reading what I have to say! I was very flattered by the recognition!
If you haven't checked out Barb's blog yet, why not pop over and say "hi"! Tell her that It's a Keeper sent you!  And, while you're there, check out all of the recipes, crafts and other tutorials.  There are some really awesome looking Chocolate Peanut Butter Mini Bundt Cakes that I'm dying to try!
Thanks again, Barb, for highlighting It's a Keeper today! You made my day!
If you like this post, be sure to subscribe by clicking on the "subscribe" link on the right.  You'll be notified my new posts.  Also, be sure to follow me on Facebook and Twitter.
Please, check out some of the other great websites, blogs and recipe swaps that I've found.  Their links are on the link tab above.