These Sweet and Spicy Baked Beans are perfect for game day or your next cookout!
This post contains sponsored links from Bush's Beans, however all opinions are 100% my own.
MY LATEST VIDEOS
One of the most treasured recipes in my recipe box is my grandmother's baked bean recipe.  Actually, the recipe came from her grandmother and has been passed down in the family for years.
I can't remember a cookout when she didn't make her signature baked beans.  They were (and still are) a cookout staple for us.
They're sweet, they're smoky, they're loaded with flavor and covered in bacon.  Everyone loves them and they always get devoured.  It's one of those recipes that everyone asks for whenever I make it.
A few weeks ago, my son was on a sleepover at a friend's house.  While he was there, he went to a cookout at his friend's grandparent's house.
One of the things he ate were spicy baked beans.  He came home and sheepishly told me these beans were BETTER than mine!  *gasp*
It was so cute…I think he was embarrassed to tell me that.
So, as any good mom would do, I set out to try to make a spicy version of my grandmother's baked beans.
The result was perfect!  Sweet, smoky and a little spicy.  Perfect for your next cookout or game day party.
The recipe started with Bush's Great Northern Beans.  I love the quality and texture of Bush's beans.
Not only are they great for these Sweet and Spicy Baked Beans, but they are also perfect for other game time snacks like Bush's Black Bean Salsa with Pineapple.
You can get an exclusive Bush's coupon that's redeemable at Walmart here:
And make sure you enter the $500 Walmart gift card giveaway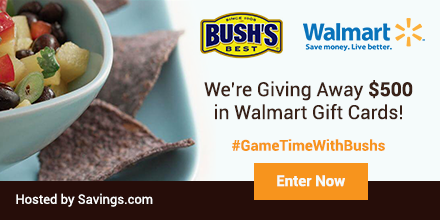 You can also check the Valpak envelopes that you receive in the mail to get a coupon, too.
The following two tabs change content below.
Hi! I'm Christina, the chief cook and bottle washer here at It Is a Keeper! I scour cookbooks, recipe boxes and the internet to bring you only the BEST recipes and product that earn my seal of approval. It Is a Keeper is your source for quick, easy and simple recipes for busy families that are tried and true. Enjoy!
Latest posts by Christina Hitchcock (see all)